The skinny jeans, the day glo face paint, the "who are you looking at old-timer?" glares are all back in town,
That can only mean the real EDC (electric daisy carnival) is back at the Las Vegas International Speedway.
Our friends at Palomino are a stone's throw from this three-day celebration of music, art and love. Youngsters, please don't tip with daisies, or other shrubbery. The only greenery dancers want from you are American dollars or weed.
Shaquille O'Neal AKA DJ Diesel will steal the show (he's playing Friday night). Headliners include Deadmau5, Tiesto, David Guetta, Zedd, Yolanda Be Cool and so many others like Duck Sauce and Eric Prydz!
The festival is sold out. Weekend passes are selling for $500, and premium packages go for $1,000. That dough buys a lot of peace and love! The carnival brings in over 300,000 partiers and reems of cash (crypto?) … so welcome to Vegas for the 11th time EDC!  That's almost 5 Super Bowl crowds at Allegiant Stadium. Attendees have told me it's a great time, worth every cent.
EDC is more than a concert …. it's a billion-dollar traveling enterprise that has some wonderfully optimistic values, and some deep pocketed sponsors like Verizon, Corona and Snapchat. At the risk of making a few EDC fans faint, big carbon footprint Allegiant Airlines and Uber help fund their weekend!
WHAT WE (EDC) BELIEVE
Our values represent the cornerstones of our culture. Rooted in a rich history and future-focused, we are led by principles that define our decisions and inspire us day after day.
FUELED BY POSITIVITY
LOVE, CARE & CONNECTION ABOVE ALL
BUILT ON INCLUSIVITY
CREATIVITY IN EVERYTHING WE DO
TAKING RISKS & BREAKING RULES
Sponsors include….
Uber
Tinder
Allegiant Airlines
Coinbase
Snapchat
Let's Get Married at EDC
But I'm an old-fashioned romantic. I was most struck by the wedding options at EDC. Vegas is still the Wedding Capital of the World … and EDC rides that groovy wave! The Carnival offers complete wedding packages for legal unions, as well as non-legal commitment ceremonies and vow renewals.
Note: All wedding participants and guests must have EDC tickets, purchased separately.
WEDDING CHAPEL OF TECHNOLOGY
The Techno Chapel is an art piece on its own. The metal combined with the vibrant luminescent colors make this wedding chapel one of the most spectacular places to say yes to your loved ones!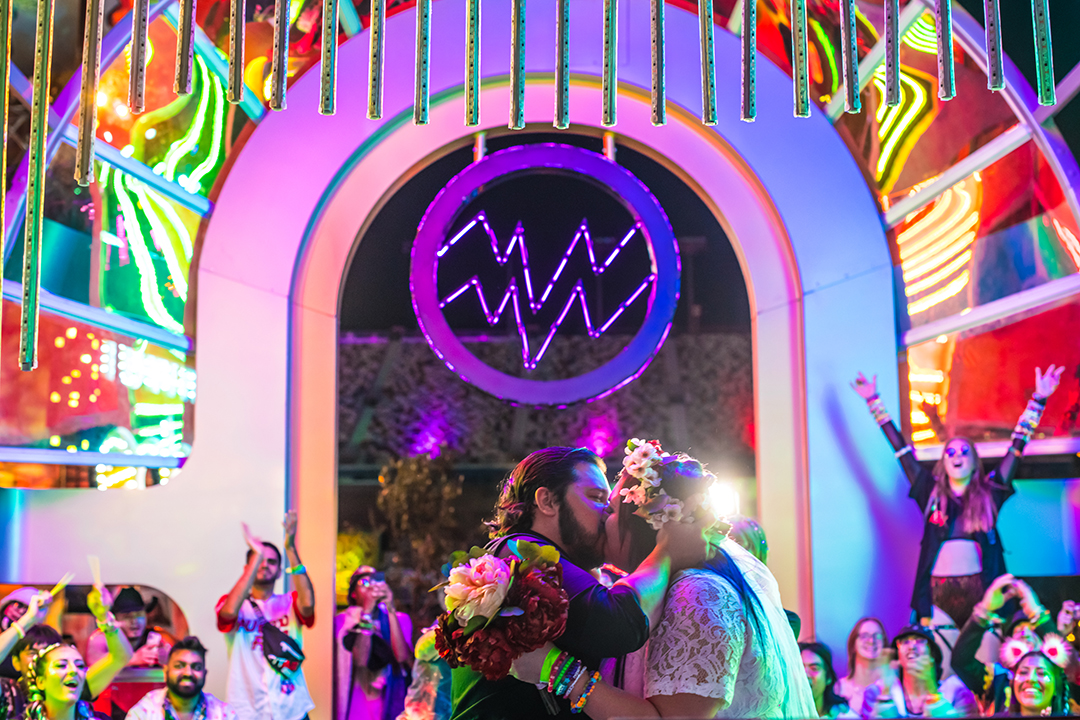 WEDDING CHAPEL OF NATURE
Nature is prevailing in this chapel of love. The vibe is flower power, love, and connecting with each other and nature.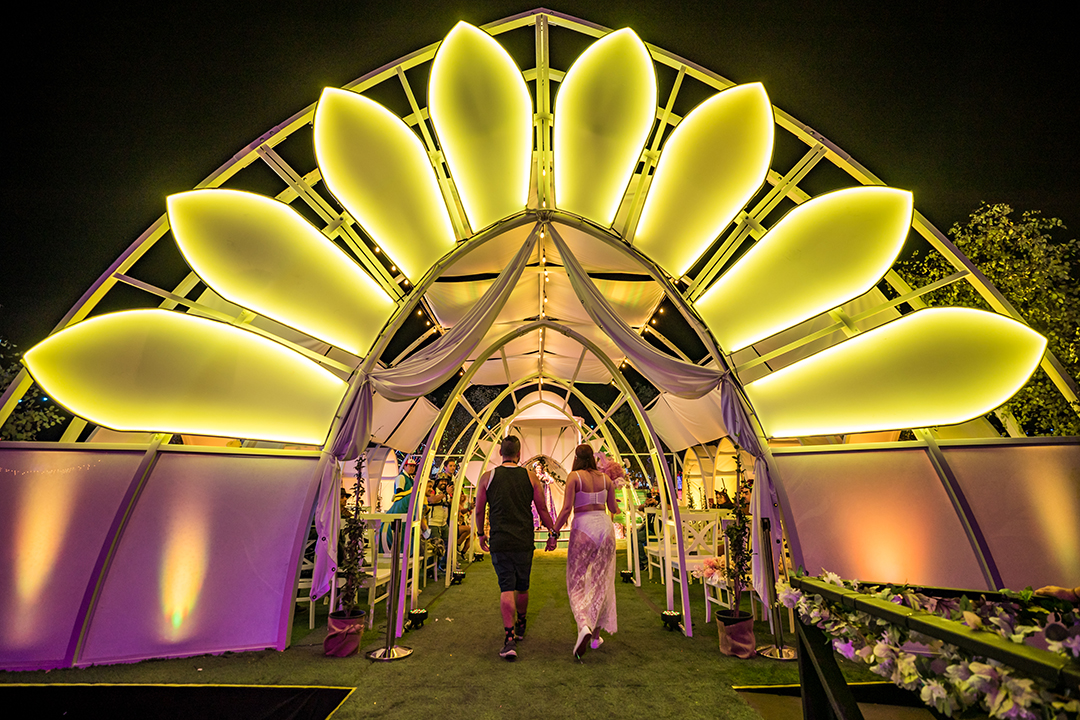 LEGAL UNIONS
An EDC Las Vegas wedding offers everything you need for your special day! Each package includes:
An EDC minister
Use of the Daisy Electric Bouquet
Reserved time slot
Option to play personal music
Commemorative certificate
Refreshing bubbly cider for the couple
Mini dessert for couple
Wedding lounge for couple to freshen up
Wedding souvenir for the couple
Complimentary locker for use on day of wedding (Items must be retrieved by 4:30am, when last wedding is conducted. Items left behind will be taken to Lost & Found.)
An amazing team of wedding coordinators to iron out your details!
Use some of the cash wedding gifts of the dancers working hard this EDC weekend!
Let's hope every one of those 300,000 EDC'rs have a great time in Las Vegas.
Stay safe … have fun!