Shriner's Open in Vegas: Strip Club Tips for Players & Fans
The PGA Tour's Shriners Children's Open is being played in Las Vegas, at the TPC Summerlin. The tournament starts at the Thursday, 6th of October and ends at the Sunday,  9th of October.
It's great to have thousands of affluent sports fans in town yet again. With NASCAR coming the following week, Raiders games, the Golden Knights NHL season starting, the PBR and National Rodeo Finals … Las Vegas will be amped up with guys with cash!
WARNING: Don't Be Robert Allenby
PGA Golfer's Story Challenged After Running $3,400 Strip Club Tab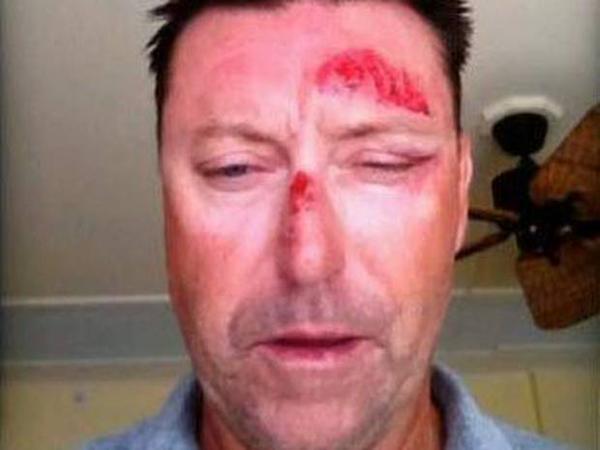 On the night after missing the cut at the PGA Tour's Sony Open in 2105, Australian golfer Robert Allenby claimed that he was drugged, robbed, beaten, thrown into the trunk of a car and dumped off at a park in Honolulu. However, new evidence reveals that Allenby's narrative of the violent episode may not have actually happened.
The New York Post reported that Golf Channel investigated the January incident by retracing Allenby's activities and interviewing multiple witnesses. According to their investigation, the PGA professional, along with "a group of friends," dropped $3,400 at Club Femme Nu, a strip club.
Allenby was later found at the park by several homeless people, one of whom alleges that he saw an inebriated Allenby stumbling and then falling, landing face-first on a lava rock. Toa Kaili said that he earlier observed Allenby passed out at a nearby footpath.
When Allenby came to, according to Kaili, he acted perturbed and accused Kaili and his friend Chris Khamis of stealing his phone and wallet. The Australian showing no appreciation for the Hawaiian's good Samaritan efforts angered Kaili, so he walked away.
Khamis said that Allenby told him he was down about not making the cut at the Sony. But, according to Khamis, that didn't keep Allenby from repeatedly  shouting that he was a millionaire while waving his platinum credit card in the air.
Vegas Strip Club Tips for Players & Fans
Pro Tip 1: Vegas Strip Clubs Come Alive Late at Night
Most Vegas strip clubs don't really get going until after 11 pm. If you're used to strip clubs in towns
where they roll up the sidewalks and stop selling booze at 2 am, that ain't Vegas. We've got legal drinking 24/7 here, and most of the strip clubs don't even get much of a crowd before 11 pm. While your city is closing down, ours is ramping up! At 2 am the best strip clubs are likely to be packed.
Start with a great meal at one of the clubs featuring a high quality kitchen, like Treasures. Lay down a good base before getting crazy in one of our clubs.
This is a town that likes to party late.
You haven't lived until you've heard the roosters in the yards behind the Peppermint Hippo crowing at the sunrise. If you're walking without help, and enjoying the sound of the yardbirds … it's going to be a great day in the desert.
Daytime Strip Club Action in Vegas
If you're looking for the best strip club to visit in the afternoon, or you don't have tickets to the golf, Peppermint Hippo and Crazy Horse III (club review) are open 24/7.
During the afternoon can have your own personal viewing party with their sexy dancers.
Pro Tip 2: Do Not Take a Cab to a Vegas Strip Club
All of the major Vegas strip clubs offer free limo service to the club from your hotel, and many of them provide free return transport as well. And all of the clubs that provide free limo service will give you free admission if you take the club limo instead of a cab. (For complete info, see Las Vegas Strip Club Free Limo Service. Phone numbers for free limo service are also provided below.)
Here's the deal: The cabbies right now are getting $50 to $75+ a head from the strip clubs for dropping off customers, so the strip clubs charge at least a $33 admission fee to anyone who shows up in a cab. Take this seriously! Las Vegas once had what was called the Taxi Wars over rides to clubs.
If you take the club limos, you will not be charged that entry fee!
Plus, if you take the free club limo, you can drink as much as you want at a club without having to worry about DUI problems, and you don't have to worry about a cabbie steering you to a rip-off joint that happens to be paying the highest bribe that night.
Pro Tip 3: You Can Forget About "No Touch" Laws in Vegas
The Nevada Supreme Court has ruled that physical contact between strip club dancers and customers is protected by the First Amendment to the U.S. Constitution.  That means you are allowed to use your hands during lap dances, providing the dancer allows it.
Be gentle and generous and you can have a lot of fun in our strip clubs.
For the Vegas strip clubs where the dancers are most likely to allow wandering hands, see Where to Get High Mileage in Vegas.
Pro Tip 4: Buy Your Weed Legally in Vegas
TVO provides a handy guide to the best dispensaries in southern Nevada. Click here for "Arnold's Snyder's Picks" in the valley.
If you're going to be at the TPC for golf, you might as well enjoy the day more with some local THC.
I recommend one of the Sanctuary's Vegas locations. The popular dispensary places a significant
emphasis on educating its patients about medical marijuana and its benefits.
Sanctuary's downtown location is located at 1324 3rd St. Las Vegas, Nev. 89104, and is open from 9 a.m. until 10 p.m. on Sunday through Thursday and 9 a.m. until 12 a.m. on Friday and Saturday. The North Las Vegas location is located at 2113 Las Vegas Blvd N. North Las Vegas, Nev 89030, and is conveniently open 24/7.
Pro Tip 5: Hit the Best Club on the Best Night – A Vegas Strip Club Tour
If I was going to be in Vegas from out of town this weekend, this would be my "Hottest Clubs" weekend in Vegas  tour route:
Friday, October 7th
Best Gourmet Steakhouse is at Treasures
Treasures' free round-trip limo is available from 8 pm.  The gourmet steakhouse opens at 8 pm as well.  This is a classic Vegas gourmet steakhouse like the one at Caesars, with all the great steaks grilled to
perfection, from a 28 oz filet or sirloin, to a prime Delmonico or Porterhouse.  You can also get grilled salmon filet, Chilean sea bass or twin lobster tails.  You can find a review of The Steakhouse and the menu here.
Select a girl from the club and
invite her to dinner for the ultimate girlfriend experience.  She will dress up for your date, flirt with you over your meal and cocktails, then lead you upstairs to the VIP where you can undress her for dessert.
Palomino Club
If you want booze, plus you want nude dancers, then Palomino Club (club review / club website) is your
best option.
The stage show at Palomino Club is so good that I recommend it as the best erotic stage show in Las Vegas.  Think erotic acrobatics and pole dancing with multiple dancers on stage on multiple poles, girl-on-girl shows and Las Vegas' hottest striptease.  Palomino Club is the place to go if you want to see dancers who can truly dance.
At Palomino you will see one knockout dancer after another on stage, beautiful women who can spin around upside down on poles naked and deliver high-mileage lap dances and private shows when they're not on stage.
The nighttime beer prices here are among the lowest of the Vegas strip clubs. Call 1.702.327.7258 for the club's free limo (and free entry).
Saturday, Mar 7
Sapphire
No matter how many times I've gone into Sapphire in the two decades or so since it opened, I'm always amazed at the sheer number of gorgeous babes with big boobs walking the floor in platform heels and skimpy lingerie. If a selection of 300-400 slender, busty, beautiful dancers available for high mileage lap dances is enticing to you, buddy, you've come to the right place.
Sapphire markets itself as the "World's Largest Gentlemen's Club," and it may well be.  It's definitely the world's most over-the-top strip club party.  The main showroom is 10,000 square feet, and that doesn't count the gourmet Mexican restaurant or the smaller showroom where the Monday Night Football and comedy shows are held.
Sapphire has a preferred type, and if you like big tits, you'll be a happy man here.  Most of the dancers are on the high end of the spectrum for both beauty and body; calling them 9s and 10s doesn't cut it, as at least half of them are 11s. Even when there's a big crowd, there are plenty of dancers working the crowd.
The lap dances on the main floor are probably the highest-contact in Vegas. The Sapphire dancers  work the crowd relentlessly when they're not on stage, but if you turn down a dancer, she'll move on to the next guy gracefully.  If you're the shy type who doesn't know how to approach dancers, you don't have to worry about that here. Just sit anywhere by yourself and you'll be approached over and over again by knockout babes looking for a comfy lap to dance in.
Sunday Night, October 9th
The Shriner's Open ends at about 3pm. That gives you time to grab a shower, catch up on the early NFL games, and head back to Palomino for the best Sunday Night Football party in town. If you're like me,
you are tired of some old fart in golf shorts telling you to 'be quiet, Stuart Cink is putting!" Fuck that!
Blow of some steam at the club readers have named the Hottest Club in Las Vegas. Join Palomino for free food, drink specials, prizes and more. This Sunday's matchup has Lamar Jackson and the Baltimore Ravens against Joe Burrow and the Cincinnati Bengals. Las Vegas' Rock Station KOMP 92.3 FM is hosting  …. and the "Taco Guy" is back!
Palomino opens early on Sundays, 5pm. Join them for a one-of-a-kind football experience.
On the other hand, if you've still got some money to blow, all of the above clubs are open every night, and Sunday's just another night in Vegas.