Butt Lift Prize!
DejaVu's new club, El Infierno, has a unique offer. To attract and retain dancers the club is offering a FREE BRAZILIAN BUTT LIFT to "Top Grossing Entertainers" …. plural. There must be a great health plan. Will this make it over to the signs at Little Darlings?
Artisan Hotel Porn-cam Takeover
Rumors are the Artisan Hotel has been rented out for two full day and nights for the exclusive use of the girls from MyFreeCams.com!  They rented the whole place, topless cam models online all the time at https://www.myfreecams.com/    No guys allowed.
MFC books the entire hotel for $8,500 a day.
TVO was told girls stay for free, but they have to earn a spot by getting 10,000 tokens in tips.
The Siegel Group sold the
Artisan
on March 25, 2022 for $11.9 million to Pro Hospitality Group. The new  owner, Alex Rizk, is the operator of a "cannabis-friendly" hotel in Phoenix. He is planning a $3 million renovation of the Artisan. The project is to start in the next 60 days and be completed in September.
Pro Hospitality Group's portfolio includes a hotel called The Clarendon. The hotel offers "cannabis-friendly rooms and amenities" that allow "vaping, dabbing, flower, etc."
"This is a lifestyle, boutique hotel," Rizk said.
Las Vegas Advisor Question of the Day – from Anthony Curtis
Question: Is there a Top Ten ALL TIME values list of the Top Ten Values?
Las Vegas Advisor
Answer: There isn't, but LSA took an informal survey of long-time Top Ten aficionados in Las Vegas and came up with one.
Note that these deals are limited to their duration in the Top Ten; most either went up in price or down in quality/value since then. Only two — Ellis Island and Arizona Charlie's — remain on the current list.
Here it is, in reverse.
10. Binion's free photo in front of the $1 million in $10,000 bills
9. Mac King
8. One-pound king-crab dinner at Palace Station for $9.99
7. Various hot dog deals — South Point, Barbary Coast, Westward Ho
6. Binion's late-night $2 steak dinner
5. Rio Carnival World Buffet
4. Various $1 beer deals — Stage Door, Casino Royale
3. Arizona Charlie's breakfast
2. 50/99-cent shrimp cocktail at Golden Gate
1. Ellis Island complete steak dinner
Next at Scores – Fetish Show!
Scores held a casting call for performers to star in a new act. The expanded club is rumored to be producing a dominatrix show starring @daisyducati and @xxirtssim .  Pole performers are being auditioned Thursday, May 25th at 8:30pm. Be sure to check in early.
Contact @TruBlacMedia
NFL officials consider scrapping Pro Bowl game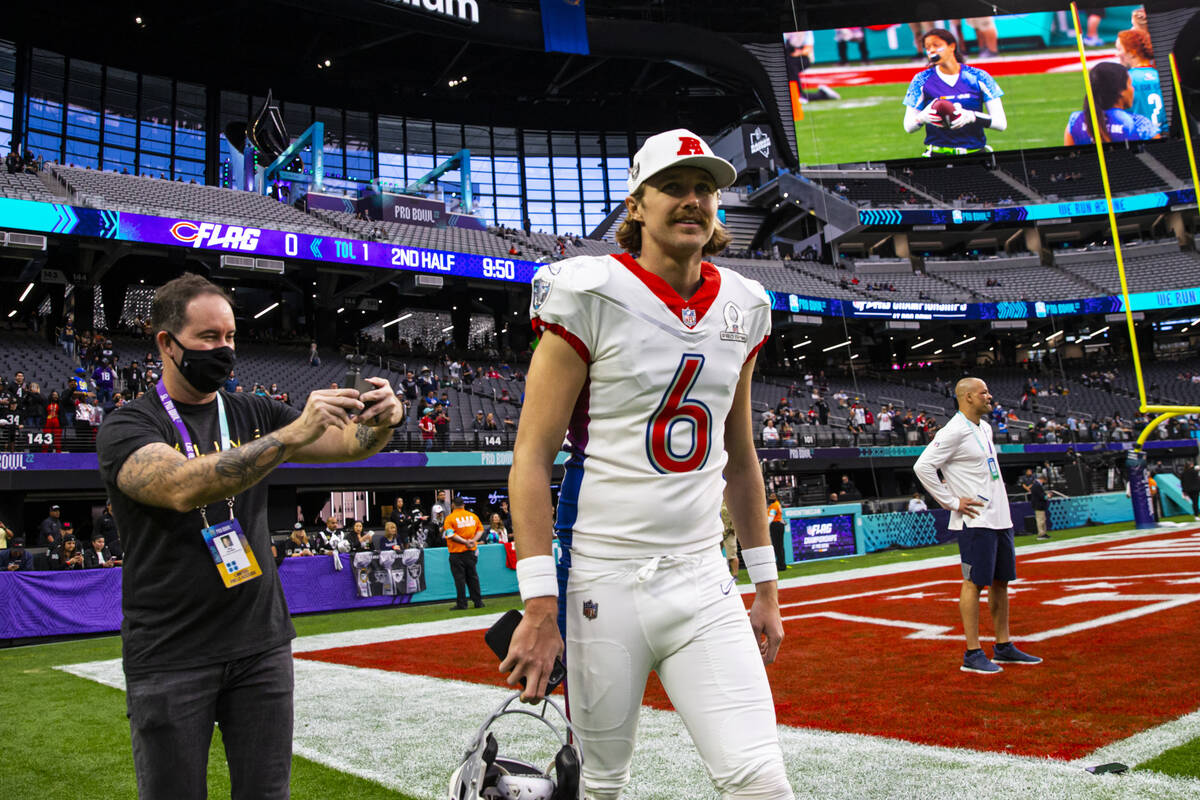 NFL owners Tuesday were discussing various ways to alter the event, which could mean preserving the week-long festivities but eliminating the tackle football game portion of it.
According to multiple reports from the NFL owners meeting in Atlanta, any change to the event, which has waned over the years with more as more players opting out of the event, could be announced as early as this summer.
For full article see…… NFL considers major Pro Bowl changes | Las Vegas Review-Journal (reviewjournal.com)

May 24, 2022 – 10:27 am
Random Vegas Picture of the Day
I hope this quick news format is entertaining and relevant. Please let TVO know in the comment box below.
ALSO: Please subscribe to ToplessVegasOnline.com.  It's 100% FREE and it's the best way to get timely alerts about Las Vegas adult entertainment.